Chippewa Veterinary Clinic
Where every animal is treated as our own

The Chippewa Veterinary Clinic is a full-service mixed animal veterinary clinic dedicated to the health and well being of your animals. Established in 1902, the Chippewa Veterinary Clinic has grown and developed throughout the years in order to meet the needs of our clients. For more than 100 years, we have been an active participant in the Chippewa Falls area, building lasting relationships within the community.
Our veterinarians and staff members all have one goal in mind: to provide the best care for your animals. Whether your animal is a cat or dog, our veterinarians and staff take pride in providing professional service and competent, compassionate care to you and your small and large animals.
Our 6,000 square-foot animal clinic includes:
three exam rooms
on-site pharmacy and laboratory
treatment room
surgery suite
digital x-ray
Surgery / hospital kennels

dental suite
separate dog and cat waiting areas
separate dog and cat boarding kennels
conference room
and much more!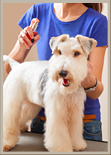 Pet Boarding
Does Whiskers need a place to stay while you're away? We provide boarding for small animals at our vet clinic in Chippewa Falls as well!